Sriwijaya Journal of Environment (SJE), a multidisciplinary environmental sciences Journal is a Peer-reviewed Journal and publishes from Graduate School, Sriwijaya University, Indonesia. The journal publishes high quality reviews, full papers and communications in all branches of environmental sciences. Articles submitted for publication in Sriwijaya Journal of Environment (SJE) should strictly adhere to the following:
Provide original work in environmental science, which is not published elsewhere in any medium by the authors or anyone else, and is not under consideration for publication in any other medium.
Sriwijaya Journal of Environment is a scientific journal, which publishes latest research results from all fields of environmental sciences, thus articles should focus on the aims and scope of the journal.
Format should be as in the Dummy Article Template File
Article should be written in English language. Articles should also be clear and correctly grammatically written, in an easily readable style. (Note: All the references should be written in English Language).
Should be submitted by the Online Submission Module at www.ojs.pps.unsri.ac.id or email to ppsjurnal@pps.unsri.ac.id
Since August 2016, Sriwijaya Journal of Environment (SJE) is member of Crossref with DOI prefix: 10.22135
Sriwijaya Journal of Environment has been indexed, abstracted, and displayed in Directory of Open Access Journals (DOAJ), Google Scholar, Mendeley, Indonesia Publication Index (IPI), Sinta, CiteFactor, Indonesian Scientific Journal Database (ISJD), Directory of Research Journal Indexing (DRJI), Academic Resource Index, BASE, Journal Factor, and Crossref with prefix 10.22135 and suffix sje.xx
Before Submission
The author has to make sure that the manuscript has been prepared using SJE's template following the author guidelines. The manuscript is suggested using Mendeley for citation and proofreading from certified institution.
Please cite Sriwijaya Journal of Environment through open article in the web or DOI access to your references: Author., Year., Sriwijaya. J. Environ., Vol(No):page; DOI.10.22135/sje.xx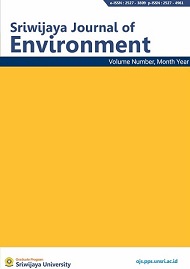 Vol 8, No 2 (2023): ENVIRONMENTAL TECHNOLOGY
Table of Contents
Articles
| | | |
| --- | --- | --- |
| | Dyah Muji Rahayu, Peimin He, Kejun Li, Jinlin Liu, Sarwo Edy Wibowo, Ester Restiana Endang Gelis, Bs Monica Arfiana | 64-69 |
| | | |
| --- | --- | --- |
| | Misriani Holifah, Lulu Yuningsih, Delfi Lensari, Jun Harbi | 70-75 |
| | | |
| --- | --- | --- |
| | Siti Nur Indah Sari, Dwi Wahyuni | 76-81 |
| | | |
| --- | --- | --- |
| | Muhammad Ardiansyah, Ngudiantoro N, Ari Siswanto | 82-91 |
| | | |
| --- | --- | --- |
| | Pandu Sapta Nugraha, Arum Setiawan, Indra Yustian | 92-97 |
| | | |
| --- | --- | --- |
| | Maulana Yusuf, Nurhayati Damiri, Ardiyan Saptawan, Syafrul Yunardy, Nur Aslamiah Supli | 98-103 |
| | | |
| --- | --- | --- |
| | Dwi Wahyuni, Ratna Dewi, Yulindasari Yulindasari, Siti Nur Indah Sari | 104-108 |
| | | |
| --- | --- | --- |
| | Jamin Saputra, Alchemi Putri Juliantika Kusdiana | 109-114 |